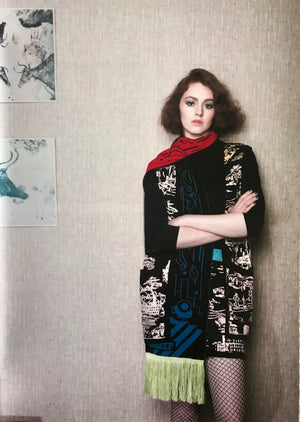 CENTURY ECHOES SCARF
Illustrated scarf featuring artists and writers active in 1916. Includes drawings of Irish writer James Joyce and artist Harry Clarke. Designed by Electronic Sheep in collaboration with Irish Architectural Historian Conor Lucey, the scarf is an authentic piece of artwork with factual historic references. 
This scarf is from Electronic Sheep's 'Airships & Spaghetti' collection. Inspired by Gertrude Stein's seminal account of bohemian life in early twentieth-century Paris. Electronic Sheep's signature graphic style explores moments in the historical landscape, from the political (the Easter Rising in Ireland; the birth of DaDa in Zurich) to the cultural (the launch of British Vogue; the publication of James Joyce's first novel). The range of scarves is peopled with an eclectic gallery of artists, designers and their friends who have helped shape the Electronic Sheep aesthetic, from Picasso (eating a plate of spaghetti) to Boy Capel (the handsome boyfriend of Coco Chanel).