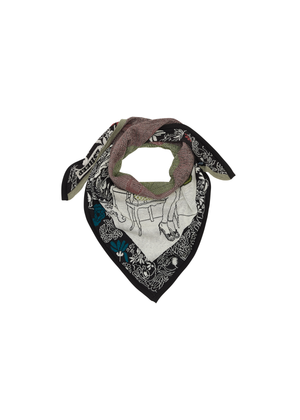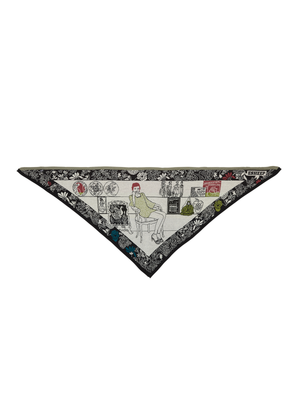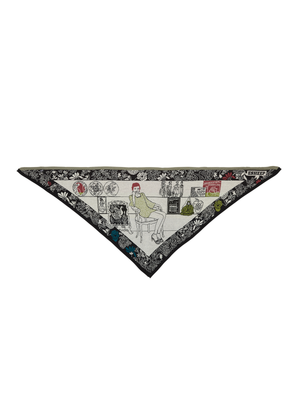 'Bella Vista – Portrait of Ludwina' TRIANGLE SCARF
Designer Colour Name: Multi 
 


Material: 100% Merino Wool

Size & Fit Information:
This item's measurements are: 

192CM ACROSS X 75CM MIDDLE DROP
comes in screen-printed tote bag

hand drawn imagery by Electronic Sheep

ethically produced

made in Europe (Greece)

supersoft, breathable yarn

hand wash

unisex / neutral
FREE SHIPPING WORLDWIDE!
'Enjoy Yourself' Collection
Hot off the knitting machine the 'Bella Vista – Portrait of Ludwina' Scarf has arrived. This is from our new collection for 20/21 called 'Enjoy Yourself. We are delighted with the outcome which has lots of meaningful stories for 2020 and colour to brighten things up!

The collection consists of 16 intricately knitted scarves that are all hand drawn and knit in 100% merino wool. Designed with the backdrop of Covid 19 and all that has entailed it is a celebration of life and death... and all the lessons that we have learnt from it. In some ways it also commemorates 2020 and the unforgettable year that it has been so far, how it has made us all appreciate the important and simple things in life. 'Enjoy Yourself' is something that Helen's mother always said to us, even if we were just going to the shops. Each knit tells has its own unique story and is a stand alone piece of art.

'Bella Vista _Portrait of Ludwina' Scarf
This is a portrait of Helen's Mother 'Eileen Ludwina Delany' who very sadly passed away in April. Eileen was very glamorous, fun and a big influence on us as designers. She is pictured sitting in 'the good room' with all of her collectables around her. Eileen was a window dresser in Clery's Dublin from the 50s-90s and her love of embellishment extended to her beautiful house which she called 'Bella Vista'. She travelled the world and had a really eclectic collection of ornaments that fascinated us when we were kids. It is a beautiful portrait of Eileen as a young woman, drawn from a picture she loved it epitomises her love of fashion, travel, fun and life itself.